You are in: Bessarabia > Homepage
Welcome to my homepage
Location of Bessarabia in Europe
his site was born from the desire of one descendant, of a German farmers of Bessarabia to make known, a piece of forgotten European history, to her children and anyone who visited this site.
Much of what is written here, is on record in a number of different sources, and much is based on eyewitness reports. When you connect both of them, a considerable history emerges.
House of my great-great-great-grandfather
Christian Leonhard Bechtle in Höpfigheim,
where he lived with his wife and 8 children
before he immigrated to Bessarabia.
Here therefore is told the story of a group of German colonists that, at the end of 18th century and at the beginning of the 19th century, left their homeland, the Kingdom of Württemberg, the Grand Duchy of Baden and the Kingdom of Bavaria.
A part of this settler's group emigrated about 1800 from Wirtemberg, at that time Duchy, to populate 'Prussian Poland' for a decade or more and then to settle after the defeat of Napoleon in 1812 in a far-off land: South Bessarabia, called also Budjak.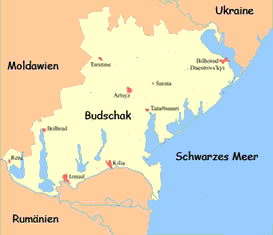 Budjak
The other part of the settler's group emigrated directly from the Kingdoms Würtemberg (from 1817 to 1832) and Bavaria (1821/22) to Bessarabia. From Baden, at that time the Grand Duchy, another group immigrated to Poland in 1830 and then in 1836 to Plotzk in Bessarabia.
This land is situated on the Black Sea that had just been conquered, by Russia, after the defeat of the Ottoman Empire's territory called Bessarabia. Tsar Alexander I settled this territory with German colonists beginning in 1814.
These settlers, capable farmers, transformed the Bessarabian steppe of the Budjak into a fertile, arable land. During a settlement of 125 years, from 1814-1940, the settlers founded 25 mother colonies, more than 100 daughter colonies, 26 estates and hamlets.
But what were the reasons which led to the emigration? You will learn the reasons for the immigration to Bessarabia in the pages of this website.
The emigration route of my ancestors
The author's ancestors migrated to Germany at the beginning of the Second World War. At the end of the war her family was separated by the "wall". The author, descendant of these settlers, experienced the divided Germany, because her family was divided: in the BRD (West Germany) and GDR (East Germany). She tells her individual experiences in a report on her journey to East Berlin which you can find at the moment only in Germanand in Italian.
I hope that you will enjoy discovering the history of one family on this web site. Good reading.
Emanuele.
P.S.: The author of the site would have been pleased to receive your comments and suggestions. You can use the guestbook here:
from Albert Mauch (1922)